Applies to conventional fertilization
Site requirements
The fertilization functions are mainly applicable to conifer-dominated, mesic and moderately fertile sites. Site quality class, soil moisture and tree species requirements can be adjusted in the control table Treatment Model in the Fertilization section (Figure 1) under Site Index Range, Soil Moisture Classes och Min Conifer Proportion.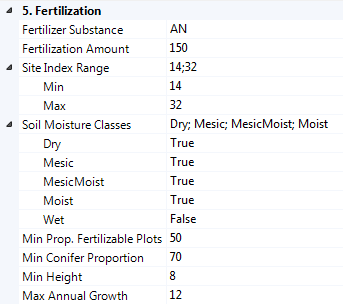 Figure 1. Settings for a fertilization can be made in the Treatment Model control table.
The minimum allowable mean height for fertilization is set under Min Height. Fertilization effects are lower in stands with high growth, and Max Annual Growth defines the maximum growth for fertilization. A stand with several plots, in which only some of the plots meet the fertilization requirements, can be partly fertilized (Min Prop. Fertilizable Plots defines the minimum proportion). For example, if the value of the variable TreatedArea in the result category Treatment is 0.5, half of the area has been fertilized.

Figure 2. A stand can be partly fertilized if it has several plots and only a few of them meet the fertilization requirements.
The type and amount of fertilizer are set under Fertilizer Substance och Fertilizer Amount (Figure 1).
The fertilization effect is calculated based on functions from Skogforsk (Pettersson, F. 1994a, 1994b). The fertilization functions estimate the increase in volume growth of the stand, while Heureka calculates the growth of single trees. The current solution to this disparity is that Heureka calculates the condition of the stand for as long as it takes to reach the fertilization effect, then moves this condition to the time when the fertilization effect ends (set to 10 years). Interpolation is used to account for the fact that these time points do not necessarily coincide with (or fit neatly into) a five year window.
1Pettersson, F. (1994). Predictive functions for calculating the total response in growth to nitrogen fertilization, duration and distribution over time. Uppsala, Skogforsk. 34 s.
2Pettersson, F. (1994). Predictive functions for impact of nitrogen fertilization on growth over five years. Uppsala, Skogforsk. 56 s.